An Aqueduct With A Silly Name
On a holiday to Shropshire in February 2020, I also went to some bits of Wales (mostly to visit St Mary's churches, see Shropshire and Wales). But, when I was in Wales I also visited an aqueduct with a very silly name.
An aqueduct is a bridge that is used to transport water across a ravine or river. In this case, the aqueduct is also used to transport boats (called narrowboats) backwards and forwards as it's part of the Llangollen Canal.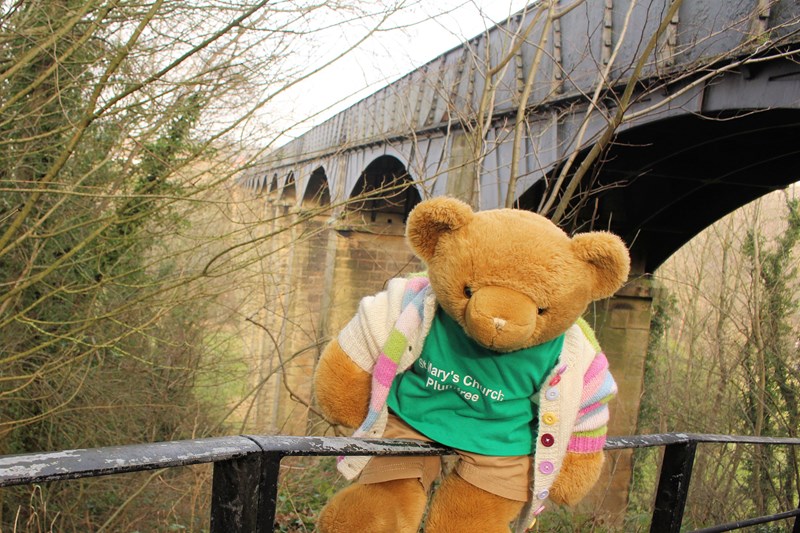 I'd been told all about this aqueduct (which, as well as having a silly name, is very high narrow and long) and I was looking forward to visiting it, running along it and peering over the edge in a threatening manner. Also Uncle Les had told me that it had a plug which I really, really wanted to investigate.
But, annoyingly, when I got there I found the aqueduct was shut 'cos it was broken and leaking a bit, and I couldn't go on it.
[The Canal & River Trust had closed the aqueduct towpath, put in stop planks and were pumping the water out of the aqueduct's channel to repair it, Big Ted].
As I couldn't go on it, I had my photo taken beside the aqueduct. But, you can't really tell from the photo just how big it is! The other thing you can't tell is that there was a lot of water gushing through from the bridge just to my left (I was getting a little worried about becoming damp and uncomfortable and, quite possibly, grubby).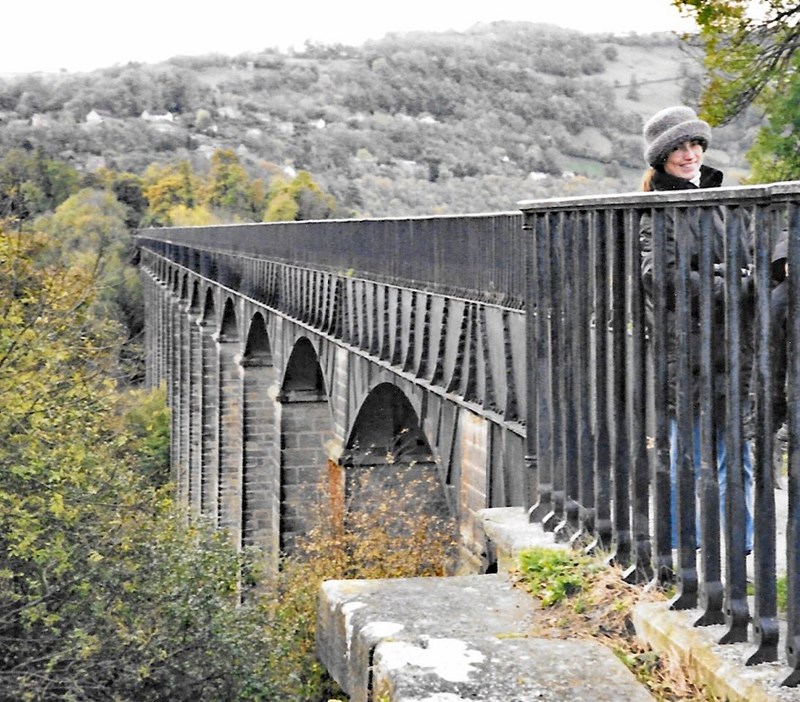 Uncle Les gave me this photo (left) that he took of the aqueduct back in 2000, I've put it here so you can see what it's really like at the top (I think Auntie Fiona looks a bit nervous in it - and she's wearing a silly hat!).
And the silly name - the aqueduct is called "Pontypantypony". [Good try! It's "Pontcysyllte" and is an aqueduct that carries the Llangollen Canal across the River Dee in the Vale of Llangollen in north east Wales. It is pronounced 'Pont – kuh – suth – te', Big Ted.]