Big Ted Goes To...
...Northumberland (and Cumbria)
I've also been on a holiday to Northumberland. This is a county in the north of England and has a lot of history associated with it; mostly involving Romans and walls.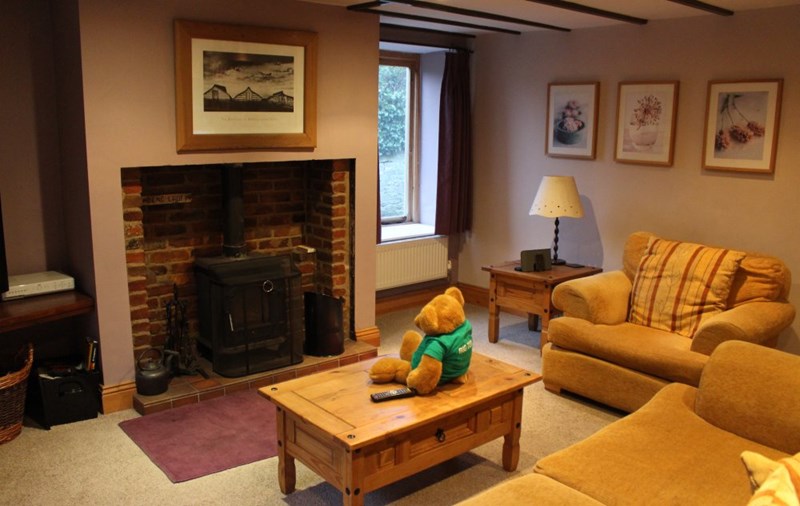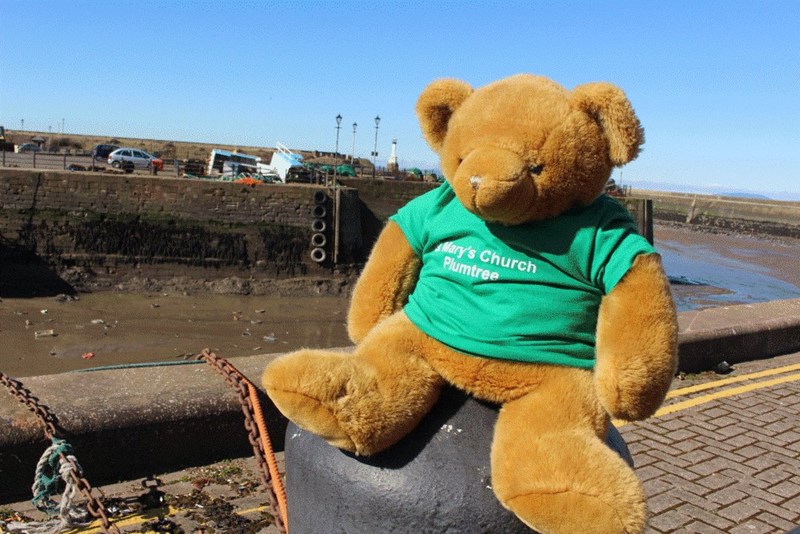 I stayed in a cottage which was very cold upstairs. Luckily it was cosy and warm downstairs, so that's where I stayed (with the TV remote!).
I had some sunny days, and on one of them I was driven to Maryport in Cumbria and I went to see the sea but it was out [snigger]. I had my photo taken anyway.
I visited eight churches called St Mary's. I've written about them and put photos on my Cumbria & Northumberland page.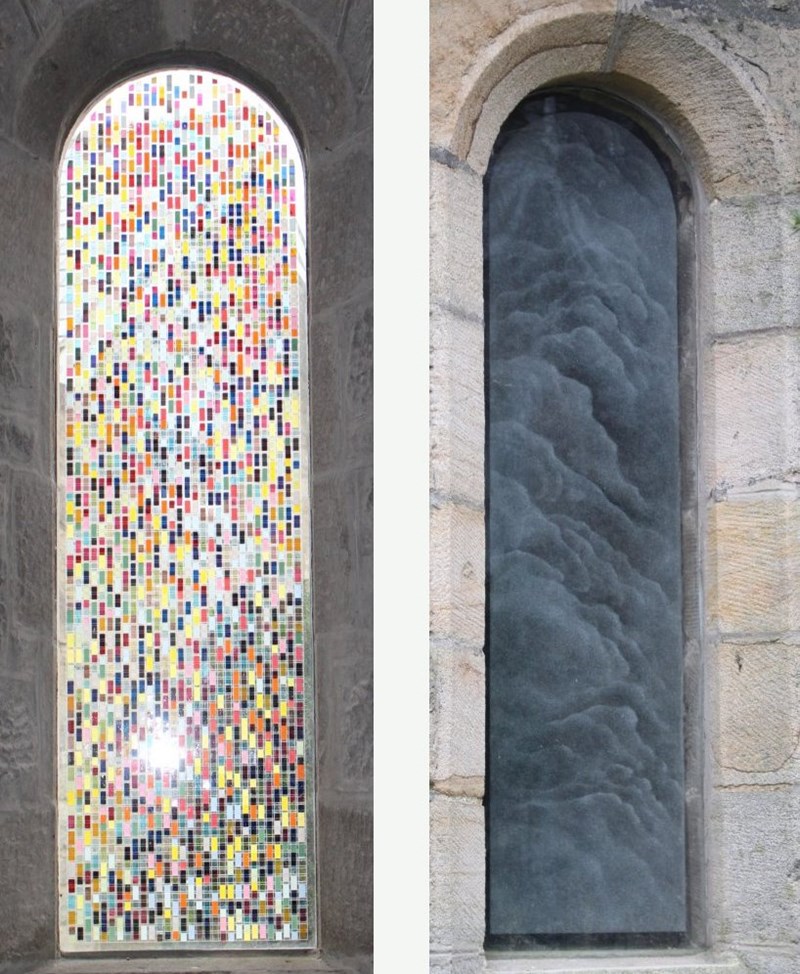 The last church I visited on my holiday wasn't a St Mary's, it was called St John's church and was in a place called Healey (Northumberland). It had lots of different stained glass windows including two really modern ones that Uncle Les photographed for me. He had to take one photo from the outside 'cos you couldn't see the funny clouds in the glass from inside.
The church has won a prize for these two windows: the ACE Award for Art in a Religious Context. The window on the left in my picture is called "Contrary Rhythm" and the one on the right is called "Untitled" [which is just silly].

...Suffolk
Then, another time, I went on holiday to a place called Lavenham in Suffolk.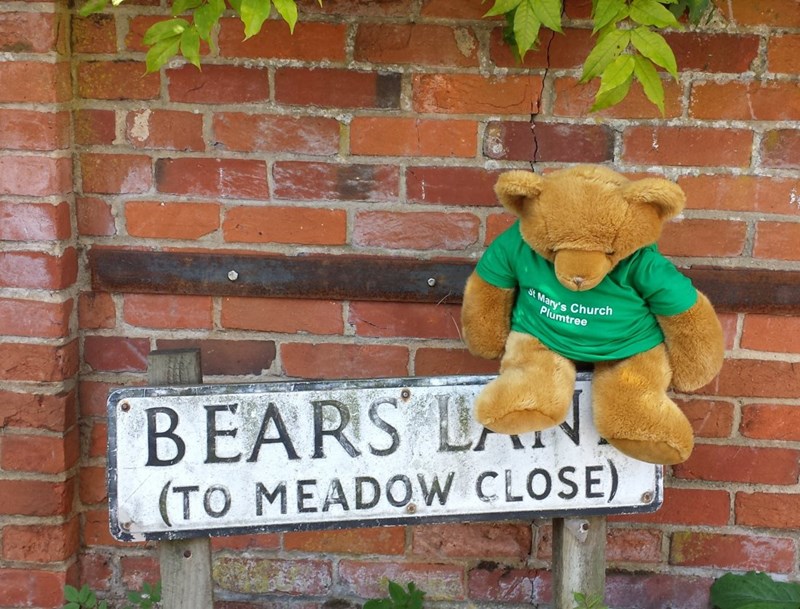 I stayed in a very old cottage called Wool Cottage. It is part of a medieval house that was owned by a wool merchant in the 1500s.
The cottage was on a road called "Bears Lane" (I thought that was really funny - I'm a bear you see and the road name had "bear" in it so it's really my lane).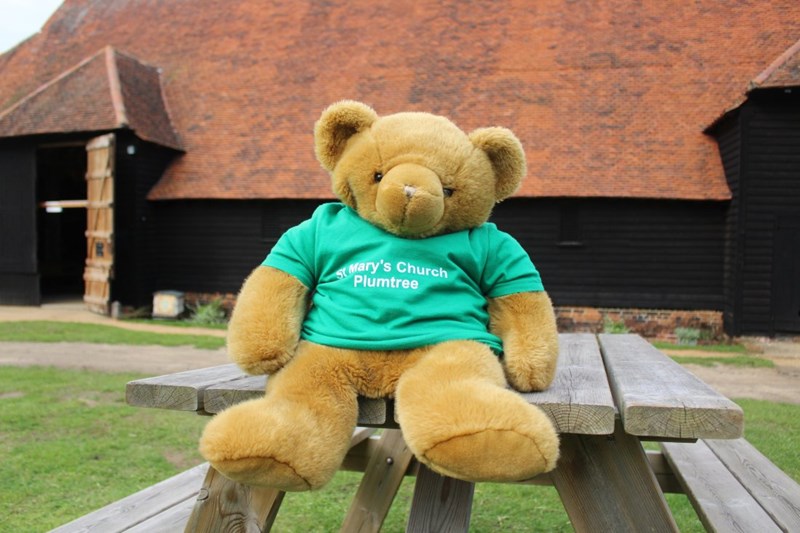 I visited lots of churches called St Mary's; you can see all the photos of them on my Suffolk & Essex page.
I also went to Essex (which is next to Suffolk, which is next to Norfolk - snigger) and visited Grange Barn in Coggeshall. This is one of Europe's oldest and biggest timber-framed buildings. And it is really, really, really, really, big! Here's a picture of me sitting a long way in front of it and you still can't see it all.
All these churches and things; I was glad to get back home for a decent snooze.
...Wales
One time I went to a place called Bangor. This is in a completely different country, called Wales (I'd never been to another country before).
Bangor has a cathedral which means it is really a city, but it's more like a small town so it's called one of the smallest cities in Britain. It was a bit windy and cold in Bangor, but it has an excellent pier that I visited. It is a really long pier and it reaches a long way out into the Menai Strait, nearly to an island called Anglesey.
The next day I went on a trip to visit Anglesey (just to be confusing, this is also called Ynys Môn). I stopped at a place with a very, very, very, very long name. It's so long and complicated they have to put writing on the bottom of the sign at the railway station that tells you how to say it!

Can you manage to say it? I can't! [Auntie Fiona says the people who live there call it "Llanfair P G", 'cos that's much shorter.]
[I've just found out that there's a St Mary's church here, AND I DIDN'T VISIT IT! I'll just have to go back. In fact the really long place name means "St Mary's church in the hollow of the white hazel near to the fierce whirlpool of St Tysilio of the red cave" so my assistants really should have known about it!]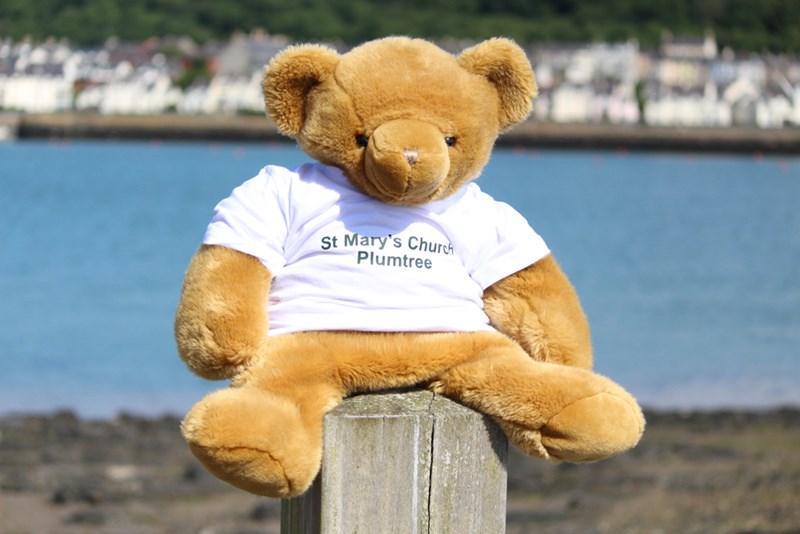 The weather finally got sunny and warm, so I went to the seaside in Anglesey. I found a handy post to sit on and I looked back at Wales on the other side of the Menai Strait.
The cottages in the distance aren't really all fuzzy to look at. It's just that Uncle Les, who took the photo, thinks it looks more artistic. But I just think it looks fuzzy myself!