Hurrah for holidays (pt 2)
Added on 29 March 2023
…Yesterday (Tuesday) was a very wet day but I still managed to visit six more St Mary's churches in Essex (I found one of them was actually in Suffolk when I checked later). I got rather damp and had to sit on a wet mossy wall for photos - which really wasn't good enough as it made my bottom damp as well. 'Cos we were still doing things the "old-fashioned way", Uncle Les was fighting with the Ordnance Survey maps - which are very large bits of paper, folded in a special concertina fashion. At one point we were on three maps at once and he was getting quite cross and damp - did I mention it was a very rainy day?! Anyway, when I got back to the cottage I sat on a lovely warm radiator for a few hours and got toasty warm and dry.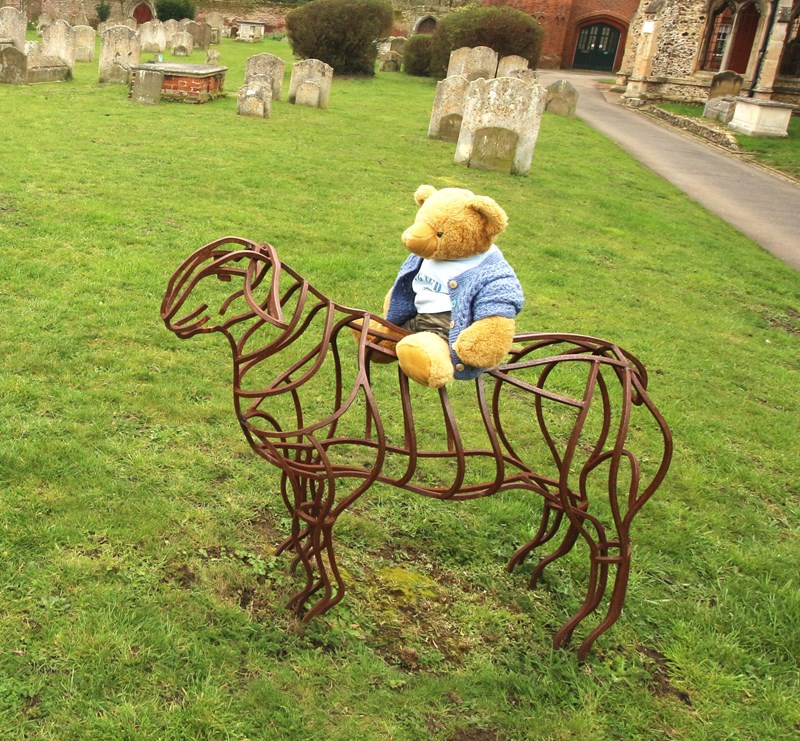 Then this morning we had a phone call from the nice lady at the garage to tell us our car was all mended (hurrah!). So we made a special journey to Newmarket to pick it up. On the way back we used the Sat-Nav Lady to make sure she still worked and visited four St Mary's churches in Suffolk to test her out. It was good to hear her voice again, even though she sent us down a couple of unexpected roads. At St Mary's in Hadleigh I sat on a sheep in the churchyard!
Tomorrow (Thursday) I'm only going to one St Mary 'cos Auntie Fiona says I've done quite enough - and I have to write up about my visits and update my website. And Uncle Les has to sort out all the lovely photos of me. I will have had an exciting holiday tho' with 19 new churches visited (maybe I can sneak in another one to make it up to 20!).
Post holiday note: Despite some very undignified whining, I only managed 19 churches after all. I've added all the pictures Uncle Les took to this website and also updated lots of pages. You can read about the churches I've visited on my Suffolk page and my new Essex page. I've l also updated Bears I have met (I met two new ones), Big Ted's Detailed Map and Big Ted's Alphabetical list. It's all quite exhausting; I need a holiday to recover - now where's my map...?!